Singer-songwriter Kenny Loggins shot to superstardom when the 1984 movie Footloose was released. He sang two songs on the film's soundtrack – "I'm Free" and the iconic tune "Footloose."
"Footloose" was co-written written by Loggins and Dean Pitchford and released by Loggins in 1984. The song spent three weeks at number one on the Billboard Hot 100 chart and was the first of two number one songs from the film Footloose.  It also reached the top spot in Australia, Canada, and New Zealand and was a Top Ten hit in Austria, Germany, Ireland, Switzerland, and the United Kingdom.
In 2011, Blake Shelton covered the tune for the remake of the movie which starred Kenny Wormald and Dancing with the Stars professional dancer-turned-judge and one-time country music star, Julianne Hough.
Shelton kicked off the 45th Annual Country Music Association Awards in 2011 by emerging on stage to sing his current hit song "Footloose." The dancers behind him performed a rambunctious line dance that got everyone in the audience on their feet.
In the middle of the performance, someone walked on the stage and Shelton said, "Ladies and gentlemen, Mr. Kenny Loggins!"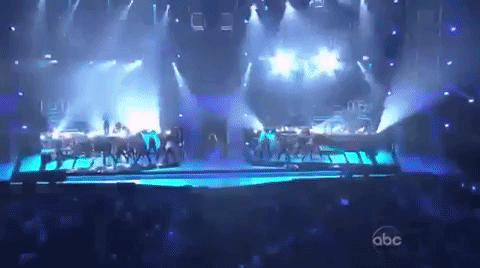 The crowd went wild knowing that he was the original writer and singer of the song and because no one knew he'd even be there!
After taking a bow, Loggins took the bridge to a whole new level. They finished the rest of the song together, which garnered them huge cheers and applause from the audience.
"This is absolutely amazing to get to perform with a rock legend, a music legend," Shelton said in an interview before the performance.
Loggins was then asked how he felt about Shelton remaking his song.
"For years, I was hearing about the remake and that they were not going to use any of the original material. And I thought, 'Kinda crazy, but sure, whatever'," he said. "And then I found out, it was after [he] cut the tune, that Blake Shelton, only the biggest act in country right now was cutting the tune."
It wasn't long after that the idea of their duet at the CMA Awards would come about.
Shelton said, "With the remake of the movie and I was honored to be given the opportunity. It's a big soundtrack for country music. We don't get opportunities like that much in our genre. So the CMA people came and said they wanted to do [the surprise duet], so my people talked to Kenny's people to see if he'd be interested in something like that."
Loggins couldn't wait to do the duet and we're so glad he said yes! Watching these two singers duet to this song was a performance we will never forget. Watch the performance below.