A new Voice champ will be crowned Tuesday night (December 18), giving one talented contestant a Christmas gift they will never forget. With only four contestants left standing, night one of this week's two-part finale was jam-packed with some of the best performances of the year.
During Monday night's live episode, each contestant performed three times: Once singing a cover song solo, once singing a cover with their coach, and once debuting an original song. None of the final four missed a beat, making it nearly impossible to pick out a frontrunner leading up to the grand finale.
One of our favorite performances of the night came from Kirk Jay and his coach Blake Shelton. Shelton, who has two team members in the finale, took the stage with Kirk to sing George Strait's 1983 hit "You Look So Good In Love." The tender heartbreak ballad was a perfect fit for Jay who has made a name for himself as a country balladeer throughout the season.
22-year-old Jay earned a rare four-chair turn during the Season 15 Blind Auditions. His rendition of Rascal Flatts' "Bless the Broken Road" had the judges fighting to get his unique R&B country sound on their team. But, Kirk Jay ultimately chose Blake Shelton. And, thanks to Blake's coaching, Jay has stood out week after week.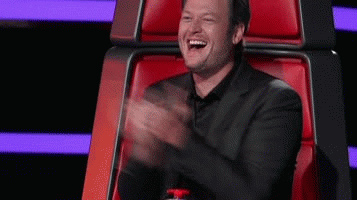 Tuesday's performance with Jay wasn't the first time Blake had covered a song by King George. Early this year, Shelton teamed up with his buddy and fellow country star Luke Bryan during Bryan's fourth annual Crash My Playa festival. In a video captured by a fan, Bryan is seen joining Shelton on stage dressed as a younger version of the "Austin" singer, mullet and all. Blake can't control his laughter as Luke kisses him on the cheek and attempts a Texas two-step.
We think you'll agree that Blake's collaboration with Kirk Jay is a huge improvement from his duet with Luke Bryan. Check out Kirk and Blake singing "You Look So Good In Love" in the video below and tell us if you think Kirk Jay has what it takes to win The Voice title.