Country Artists' Side Careers On The Silver Screen
Country music artists are multi-talented people, with many having other skills on top of singing chops. A large number of them are songwriters and musicians, some are TV personalities or business founders, and a few are even cookbook authors!
But did you have any clue that a large number of your favorite country stars have lived double lives as actors and singers? Tons of artists have had small roles or one-off parts in films or television shows before, but others have completely devoted themselves to a side career in acting.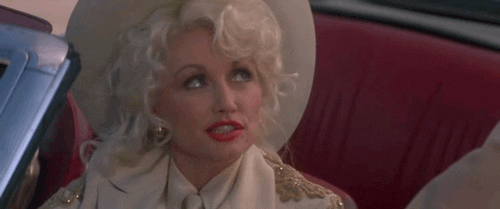 Some of this singers turned actors are obvious, like Dolly Parton, who appeared in films like Steel Magnolias and 9 to 5. Others may come as a surprise to you…like did you know that Dwight Yoakam was in the Oscar-winning movie Sling Blade? 
Learn all about the acting careers of Yoakam, Parton, and numerous other country stars by browsing through our summaries of their starring roles below!
Glen Campbell
The "Rhinestone Cowboy" only acted in a few projects over the course of his career. He was more of a movie star than a TV actor, appearing in films such as The Cool Ones and Uphill All the Way.
But Campbell's most well-known role was in a movie called True Grit, in which he played a Texas Ranger named Le Boeuf alongside John Wayne's iconic character Rooster Cogburn. It was Campbell's first foray into the Western genre, and led to another starring role in another cowboy-themed film, titled Norwood.
Carrie Underwood
Since Carrie Underwood started her singing career on a television show, it only made sense that she'd one day develop an interest in TV and film. That venture started in 2009 when she offered up her voice to a character named Carrie Underworm for an episode of Sesame Street.
But if you don't count that voiceover part, Underwood's acting career truly took off in 2012 when she played youth ministry leader Sarah Hill in Soul Surfer. She has only taken on one more role since then, and it was a big one…she played Maria in the 2013 televised production of Sound of Music Live!
That musical inspired a number of others to follow, and now the live TV musical is a genre all its own.
Kris Kristofferson
Kris Kristofferson may have the most extensive filmography of any country star on this list! He's appeared on both the big and small screen, with his most recent role being in the 2018 film Blaze.
With such a long resume, it's likely that you've missed a few of Kristofferson's acting gigs. But two of his projects you're sure to have seen are A Star is Born and Convoy. The former film led Kristofferson to his only award win of any kind…a Golden Globe for Best Actor – Motion Picture Musical or Comedy for his portrayal of the character John Norman Howard.
Randy Travis
Randy Travis is known first and foremost as a country singer, but he's done his fair share of acting as well. His first role was in 1992, when he played a character named Billy Wheeler in the televised legal drama Matlock. He reprised the role for a second episode, and went on to make guest appearances on other series such as Sabrina the Teenage Witch and Touched by An Angel.
But most of Travis' roles, both on TV and in film, have been voiceover parts. He has voiced characters on series such as Hey Arnold! and King of the Hill and for films, including On the Farm: The Prodigal Pig and the emotional Christmas flick, Annabelle's Wish.
Jerry Reed
Jerry Reed had a multi-faceted career that showcased the depths of his talent. He was a singer, songwriter, composer, guitar player, and actor.
His acting career kicked off in 1972 with a voiceover role on a Scooby Doo series. He went on to physically appear on a number of other television shows, including Nashville 99 and Mama's Family.
However, Reed is more well-known for being a movie star than a television actor. You can attribute that to the success of the three Smokey and the Bandit films, in which Reed starred as Cledus Snow or "Snowman." He also penned and sang the film's iconic theme, "East Bound and Down."
Willie Nelson
Like his Highwayman bandmate and good buddy Kristofferson, Willie Nelson also has an acting career to boast about. In fact, Nelson and Kristofferson appeared in a film together, titled Songwriter.
While most of Nelson's filmography credits involve guest appearances as himself, he's also taken on some character roles. Other than Songwriter, Nelson is perhaps most well-known for playing Doc Holliday in 1986's Stagecoach (also alongside Kristofferson and Johnny Cash) and for portraying Uncle Jesse in the 2005 film adaptation of The Dukes of Hazzard.
Reba McEntire
Reba McEntire is one of the most well-known country music actors there is. While her filmography may be smaller than other artists, she had a role that no one else on this list can claim…a starring spot on a multi-season TV series.
Of course, the series we're talking about is the family sitcom Reba, which ran for six seasons from 2001-2007 with McEntire at the helm (and there's talk of a reboot coming). On top of leading the charge on Reba, the red-headed country superstar has also appeared in films including Tremors alongside Kevin Bacon and shows such as Baby Mama and Last Man Standing.
Dwight Yoakam
We teased this one for you earlier, but Dwight Yoakam actually had a pivotal role in one of cinema's most critically-acclaimed works. He played an antagonist named Doyle Hargraves in the 1996 film Sling Blade, which featured Billy Bob Thorton in the lead role.
Yoakam's performance led to a nomination for a Screen Actors Guild Award for Outstanding Performance by a Cast in a Motion Picture. That's quite remarkable, considering the fact that the role was only the third time the singer had ever acted.
He went on to develop his filmography even further, appearing in 2002's Panic Room, 2005's Wedding Crashers, and more. To top it all off, he wrote and directed another film that he acted in…2001's South of Heaven, West of Hell.
Johnny Cash
We mentioned Johnny Cash's acting career earlier when we spoke about Nelson's, but that was just the tip of the iceberg. His acting resume stretches back almost as far as his singing career, with his first role being in the 1961 film Five Minutes to Live.
The majority of his acting gigs were for television, though he did appear as a character on the silver screen two times after Five Minutes to Live. But television films such as Stagecoach and his guest appearances on various TV series are what truly put Cash on the map as an actor.
Tim McGraw
Tim McGraw's filmography may be shorter than some of the other artists on this list, but he had roles in some of the most well-known projects. While his acting debut was on a 1997 episode of The Jeff Foxworthy Show, McGraw is primarily known as a movie actor.
His acting has led to him being nominated for two awards…a MTV Movie Award for Best Male Breakthrough Performance for his role in Friday Night Lights and a Critics Choice Award for Best Song for "My Little Girl," which appeared in a movie he also starred in, Flicka.
In addition to appearing in those movies, McGraw landed roles in flicks such as Country Strong, Tomorrowland, and The Blind Side. He also played James Dutton in the Yellowstone prequel series, 1883.
Toby Keith
Toby Keith's venture into acting was brief, but noteworthy. His film debut was in 2006's Broken Bridges, a movie about a washed-up country singer that also starred Kelly Preston and Burt Reynolds.
Two years later, Keith took on his next acting role in a comedic film titled Beer for My Horses, which was inspired by his hit duet with Willie Nelson of the same name. On top of starring in the film, Keith also co-wrote the script and served as a co-producer.
Keith has only appeared in a few other projects since then. Most of his filmography credits have to do with his music being featured in films and on TV. One of his recent contributions is the song "Don't Let the Old Man In," which rolled during the closing credits of the Clint Eastwood movie, The Mule.
Dolly Parton
Perhaps the most well-known country music movie star of them all, Dolly Parton has acted in films that are now considered timeless. Her first-ever movie role was in 1980's 9 to 5, for which she also wrote its iconic theme song.
Other than 9 to 5, Parton has appeared in a number of movies y'all surely know and love, including, The Best Little Whorehouse in Texas, Steel Magnolias, and Joyful Noise. To top it all off, she's made appearances in more television shows and made-for-tv movies than we could ever begin to count.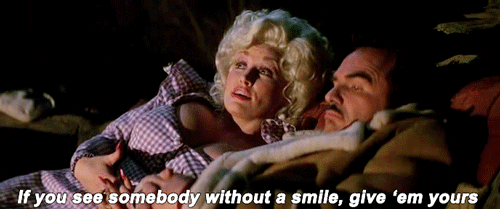 After starring in other's projects for so long, Parton finally led the charge on one that's all her own. Her series, Dolly Parton's Heartstrings, tells the stories behind some of her most beloved songs, and she appeared in some of the episodes!
Tune in below to watch her make an appearance in another project that's close to her heart…Christmas of Many Colors: Circle of Love, the sequel to her film Coat of Many Colors.
You likely knew before now that Parton had a double life as an actress, but did any of the other artists on this list surprise you with their acting credits?