The 15th season of The Voice has been full of ups and downs, and Tuesday night's semi-final elimination round was no different.
During an emotional and somewhat tense night of competition, the field of 8 semi-finalists was cut in half, leaving only 4 advancing to next week's finale. Unlike previous weeks, there seemed to be a cloud hanging over the coaches and contestants after the controversy that left Adam Levine and his lone remaining teammate on the receiving end of some cruel attention.
Veteran Voice coach Adam Levine shocked viewers last week when he found himself with two contestants in the bottom three. One of those singers, 14-year old Reagan Strange, became ill and was unable to perform for an Instant Save leaving her teammate DeAndre Nico and Team Blake member Dave Fenley battling out for America's vote.
In a strange move, Adam Levine plead with viewers to save Strange at DeAndre's expense.
"This sucks, man. DeAndre, you're an exquisite singer. I'm a little confused as to why you're in the bottom. That perplexes me. But I want to say this … There is an unbelievably talented little girl right now who is not able to fight for her position on this show. And you were fortunate enough tonight to be able to sing. And man, you sang like a champ," Levine told Nico before turning to Reagan.

"As much as I urge you all to vote for this man, because he should never have been in the bottom … I don't know if I have the heart to not tell everyone right now," Levine continued, as Strange wiped tears from her eyes. "I have a very special relationship with Reagan. And I have two little girls at home. The thought of breaking her heart by not urging everyone to give this girl a shot to go and redeem herself next week would be too far beneath me."
Many viewers responded with angry tweets instead of votes for DeAndre Nico, and Reagan Strange won the Instant Save earning her way to the semi-final round. Despite the negativity, there was plenty of support for Levine and Strange.
While I don't agree with the way you handled supporting Reagan last week, I understand why you did. And I don't think people should be so mean to you and Reagan because of it. @adamlevine #VoiceResults

— felipa cepeda (@lipac79) December 12, 2018
@adamlevine #VoiceResults ! I'm sad Reagan wasn't in the final show , you did a wonderful job teaching her !

— Elvie Abney (@ElvieAbney) December 12, 2018
@adamlevine well we tried to save Raven but it didn't work so please don't feel bad about all that other stuff k we love you Adam Levine ❤❤❤❤

— Collette Cazes (@ccazes69) December 12, 2018
I think its an outrage Regan shouldnt have gone home. I loved her especially last night. I thought it was her best of all her singing. Please don't let her go. Please continue to stand by and support her She needs to be on the radio and make record.@adamlevine #VoiceResults

— Margaret Drumheiser (@MargaretDrumhe2) December 12, 2018
Social media has been harsh on Strange and Levine this week, so it wasn't a big surprise that the talented teen found herself singing for a save once again. In what can only be described as a heartbreaking moment, Strange appeared to have given up as she took the stage to sing "Wherever You Will Go." She appeared to be fighting back tears at times, but we have to commend her for her courage to get on stage. With a strength well beyond her 14 years, Strange performed with as much confidence as she could muster and gave it all she had. But, it wasn't quite enough.
For the second season in a row, coach Adam Levine won't have a contestant in the finale. But, we hope it's not the last we'll hear from Reagan Strange. During her Blind Audition she won us over with her smooth cover of Bebe Rexha's "Meant To Be." She also had Blake Shelton and Adam Levine fighting over her, but eventually chose Adam.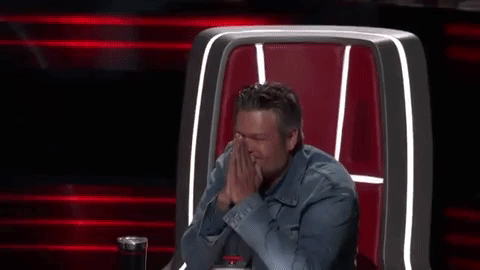 Hear the beautiful performance that introduced America to Reagan Strange in the video below.