Beloved actor Luke Perry passed away March 4, 2019, just five days after suffering a massive stroke. He was 52.
Perry was perhaps best known for his role as heartthrob Dylan McKay in the '90s teen drama "Beverly Hills, 90210″ from 1990 to 1995, and again from 1998 to 2000.
His first big screen break came in 1994 when he appeared in 8 Seconds, a biographical drama about professional bull rider Lane Frost. Frost died at the 1989 Cheyenne Frontier Days Rodeo in Cheyenne, Wyoming, as a result of injuries sustained when a bull struck him after he completed his ride. He was 25-years-old at the time of his death.
"He was a very humble champion and he was comfortable and well-suited to the spotlight in a way that few people are. The thing I learned about Lane that I was impressed with the most was that he was a great friend," Perry said of the late cowboy. "Everybody said Lane was a great guy to be friends with."
8 Seconds was released to mixed reviews on what would have been Lane Frost's 30th birthday. It quickly became a favorite among rodeo fans and those who love country music. The soundtrack to the film featured songs from Vince Gill, Reba McEntire, Pam Tillis, Brooks & Dunn and more and climbed the Billboard Country Charts.
One of the soundtrack's most popular songs was from '90s hitmaker Billy Dean who leant his vocals to the emotional track "Once In A While," an emotional ballad that was featured at the end of the movie, following the scene about Lane Frost's death. The music video for the song shows clips from 8 Seconds, mostly were uplifting scenes highlighting Luke Perry as a smiling Lane Frost.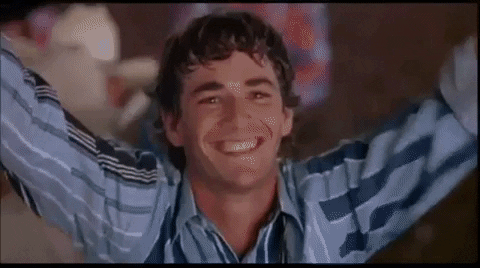 The music video now seems a fitting tribute for Luke Perry who friends described in words eerily similar to how Lane Frost was described by his friends.
The poignant lyrics of "Once In A While" are especially meaningful following the untimely passing of Luke Perry. With phrases like, "He would hate it if we cried. It never was his style," and "Once in a while, someone comes along…that one in a million heart so pure and so strong," it was almost as if the song was written for Perry, who was known as one of the kindest and most genuine men in the entertainment industry.
Following Luke Perry's passing, numerous stories of his kindness and good deeds have been shared.
Luke Perry was one of the most genuine, kindhearted, and thoughtful actors I've ever had the chance to meet. When I last saw him at NYCC, he made sure to thank each reporter at my press table, saying how much he appreciated us being there. Just the nicest guy. I'll miss him. RIP. pic.twitter.com/NqjoZlz8TF

— Chris King (@ckinger13) March 4, 2019
Y'all might know Luke Perry had some land here in Tennessee. Maybe you don't know that during the flood of 2010, he was out there bringing people food, bottles of water, and shoes. Just a humble, decent dude. pic.twitter.com/BEefrMYfM2

— Josh Raby (@JoshRaby) March 5, 2019
Watch the music video-turned-Luke Perry tribute for "Once In A While" below.