The Power Of Pairs
You know the saying, it takes two to tango. And when two singers bring their talents together in the "tango" that is country music, magical things can happen.
Duos have played a huge part in shaping country music through the years. Duos such as Brooks & Dunn and The Judds transformed the genre and set records, leaving others aspiring to achieve the same things.
Country Music Hall of Fame Class of 2019: Jerry Bradley, Brooks & Dunn, Ray Stevens https://t.co/wGS2VOy9BP pic.twitter.com/SA0L4KBh8T

— Nashville Noise (@nashvillenoise) March 23, 2019
Because duos are such an important part of the country music industry, the ACM and other awards organizations have long taken the time to honor them and their accomplishments. In fact, the ACM had a duo-specific award established at its first ceremony in 1960.
Known as the Top Vocal Duo Award back then, its inaugural trophy was given to Merle Haggard and Bonnie Owens.
Today, that award is known as the Duo of the Year Award. Five duos were in the running for the trophy in 2019, including the artist who has won the award three years in a row.
The nominees were as follows:
Questions Over Who Would Win
Considering everything that the members of these duos were able to accomplish this year, fans knew this category could be anyone's game.
The biggest question looming over everyone's heads was whether or not Brothers Osborne would be able to maintain their winning streak after taking home the award from 2016-2018. They won the similarly named category at the CMA Awards in November, so their odds of winning at the ACM Awards seemed the greatest.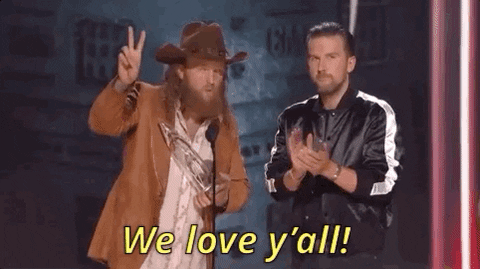 Or would Florida Georgia Line come back to claim it, since they took home the trophy for three straight years prior? Or would one of the newer duos, Dan + Shay, Maddie & Tae, or LOCASH walk home with the award after all having monumental years?
Folks finally got their answers to all of those questions when the winner was announced during the ACM Awards on Sunday (April 7)
And The Winner Is…
Congratulations to Dan + Shat, the 2019 Duo of the Year!
Third time's the charm for @DanAndShay, who just won another #ACMawards for Duo of the Year. pic.twitter.com/lao0o4aiTt

— CBS (@CBS) April 8, 2019
It's no wonder why Dan + Shay won the Duo of the Year Award. They experienced overwhelming success this year!
Here is just a short list of what they accomplished since the 2018 ACM Awards:
Earned two #1 hits on both country charts ("Tequila" and "Speechless")
Released album that debuted at #1 on Country Albums chart (Dan + Shay)
Had a single certified double platinum by the RIAA ("Tequila")
Nominated for the Grammy Award for Best Country Song
Won the Grammy Award for Best Country Duo/Group Performance
As you can see, the fellas in Dan + Shay are more than deserving of this win! Congratulations to them!