If you've ever wondered what would happen if you mashed-up Alan Jackson and Justin Bieber…wonder no more. A 15-year-old Texas native put all of our curiosity to rest when he stood before the American Idol judges for the audition of a lifetime.
As soon as Austin Michael Robinson walked into the audition room he captivated them with his "country Justin Beiber" looks. "If Alan Jackson and Justin Bieber had a child," Luke Bryan declared. Robinson's long blond hair and cowboy hat had Katy Perry wondering if he was truly country or if his look was just playing a part.
But, when the talented teen began to sing Josh Turner's "Your Man" he left no doubt that he was country to the core. In addition to delivering some impressive vocals, Robinson also stole some moves from Luke Bryan's play book when he began to sway his hips, sending Bryan into a fit of laughter.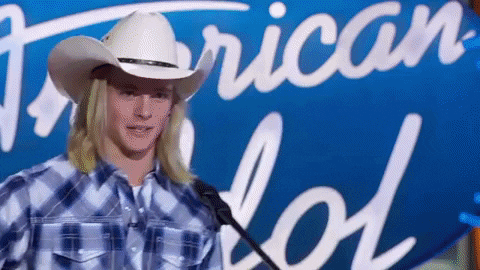 Despite his lack of maturity and inexperience, Luke Bryan and Lionel Richie agreed to give Robinson a chance and moved him through to Hollywood.
"I love the idea, this might maybe be one of those times you just take the slow cook off and just burn it," Richie said in response to Perry's feedback that Robinson needed to "slow cook" for awhile. "A little heartthrob never hurt anybody."
In 2005, "Your Man" became Josh Turner's first No. 1 song on the Billboard Hot Country Songs Chart and won awards for songwriters Chris Stapleton and Chris DuBois
"Your Man" has long been a popular song choice for Idol hopefuls. In 2011, then-16-year-old Scotty McCreery sang the Josh Turner tune for the audition that was the first step in the Idol journey that would see him crowned the Season 10 winner. Seven years later, Caleb Lee Hutchinson covered the song on American Idol and it helped take him to a second place finish.
Watch Austin Michael Robinson sing "Your Man" by Josh Turner in the video below and let us know what you think. Will the song choice help him follow in the footsteps of Scotty McCreery and Caleb Lee Hutchinson?